GA Tailgate Spot + 2 wristbands
$199
GA Tailgate Spot + 3 wristbands 

($10 Savings)

$289
GA Tailgate Spot + 4 wristbands 

($40 Savings)

$359
GA EXTRA LARGE Tailgate Spot + 2 wristbands
$399
GA EXTRA LARGE Tailgate Spot + 3 wristbands

($110 Savings)

$499
GA EXTRA LARGE Tailgate Spot + 4 wristbands

($220 Savings)

$599

VIP Tailgate Spot + 2 wristbands
$399
VIP Tailgate Spot + 3 wristbands   

($20 Savings)

$579
VIP Tailgate Spot + 4 wristbands   

($50 Savings)

$749

PLUS:
– includes (1) one VIP tailgate parking spot in Row 2-Row 5
– Stage front VIP festival wristbands
– Access to Boots & Bikinis MEGA Pool Party – (stage-side)
– Private Bars, Food & Restrooms
– Early Entry

UVIP Tailgate Spot + 2 wristbands
$799
UVIP Tailgate Spot + 3 wristbands

($30 Savings)

$1159
UVIP Tailgate Spot + 4 wristbands

($60 Savings)

$1529

PLUS:
– includes (1) one ULTIMATE VIP Front Rows festival wristband
– Front Rows ULTIMATE VIP festival wristbands
– Double sized tailgate spot
– Private viewing area
– Private Bars, Food & Bathrooms
– Access to Boots & Bikinis MEGA Pool Party (stage-side)
– Early Entry



FULLY CATERED, STOCKED, SERVICED

includes
>largest tailgating space at the festival
>all tables, chairs, large tenting
>full size grill
>speaker system
>complete catering of selected package with food delivery at your specified times
>unlimited cooler beverage restocking
>housekeeping services
>Artist meet & greet or stop by with photos
>private performance
>golf cart transportation

Food Selection Examples:

>Traditional BBQ
>Southwestern Fiesta Brunch

*Upon ordering you will be assigned a host who will coordinate your weekend for you

GENERAL ADMISSION TAILGATE SECTIONS
Designated sections of the grounds reserved for tailgating.   These areas may have limited or obstructed vantage points.
GENERAL ADMISSION STANDING ROOM
This is located inside the festival and is all of the space in front of the stage where you would experience the festival like you would at any traditional festival at the stage and in the audience.   All ticket types include this access.
VIP TAILGATE LOT
These are lots where. you can tailgate and have closer vantage points of the performances.  Tailgaters can move freely from their tailgates in this lot to the festival areas and pool, etc or just watch the show from the tailgates.
ULTIMATE VIP TAILGATE LOT
This lot is the best of the best tailgating where you can tailgate in the front rows of all the tailgating and have the absolute closest vantage points of the performances.  You can still move freely into the festival but with this front rows tailgating you can stay put and won't miss a thing…except maybe the Pool Party so at least walk over for a dip to cool down.
BOOTS & BIKINIS MEGA POOL PARTY
Boots & Bikinis Mega Pool Party at Tailgate Fest is our exclusive VIP hotel style pool party right next to the stage.  Plant your butt in the pool with a cold one in your hand and watch the best country music has to offer. Wait staff, cabanas,  pool lounge chairs, floats, towels and artist spotting all day and all night.  The best VIP amenity that has ever existed in the festival space.  (limited number available)
REGULAR PARKING LOTS
Lots are the not tailgating lots. These do not have vantage points of the stage. Use the lots if you want to have in and out access throughout the day and if you are going to attend the festival in a more traditional way and are not going to be tailgating.  These lots are used by anyone with a GA Non-Tailgating, VIP Non-Tailgating, or Ultimate VIP Non-Tailgating" ticket.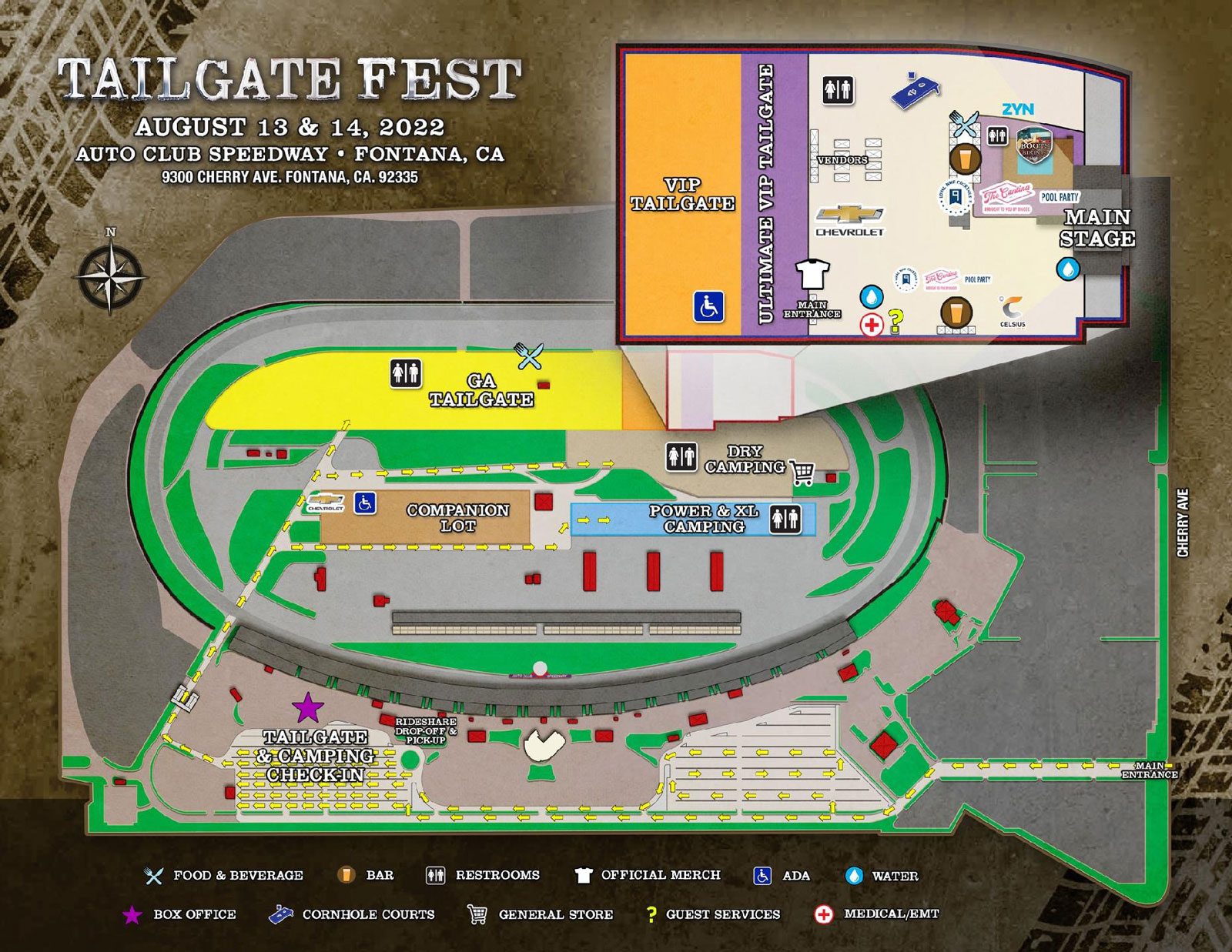 Ticket Flowchart
How does this ticketing at Tailgate Fest work?